UBRELVY—The Anytime, Anywhere
Migraine MedicineTM
Quickly Stop A
Migraine Attack In
Its Tracks
Introducing a new savings offer
Eligible patients* may now pay as little as
* Please see Program Terms, Conditions, and Eligibility Criteria below.
Sign up now
As of 06/21
One dose of UBRELVY can offer complete pain relief
UBRELVY is the #1 prescribed branded treatment† for migraine attacks in adults—it's not for prevention of migraine.
In clinical studies, most people had quick pain relief and some even had pain freedom within 2 hours.
†Based on retail and nonretail monthly prescription data from IQVIA on a 6-month rolling basis as of 06/21.
UBRELVY WORKS DIFFERENTLY
The first in a different class of migraine treatments, UBRELVY is an oral, non-narcotic pill taken during a migraine attack. Unlike older migraine medications, it directly blocks a protein, known as CGRP, believed to play a major role in migraine attacks.
SEE HOW SERENA WILLIAMS TREATS HER MIGRAINE ATTACKS WITH UBRELVY
Access migraine support with ease
The U-DemandTM Relief Suite is a robust support program that provides the resources and assistance you need to better access UBRELVY and get savings when and where you need it.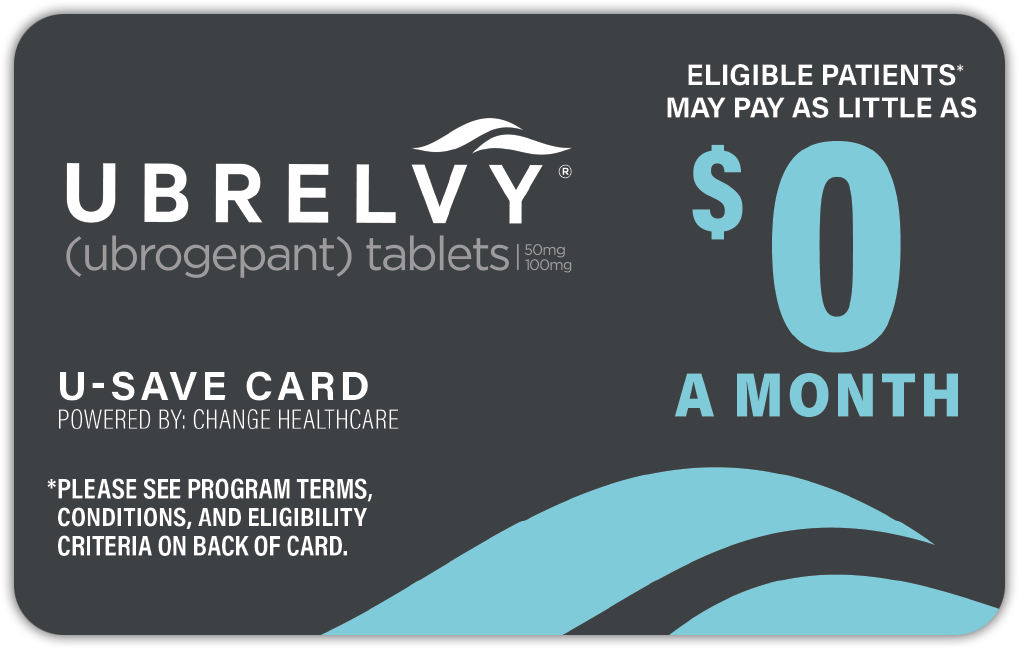 Now eligible patients* may pay as little as
See if you're eligible to pay as little as $0 for every fill with the U-Save Card.
How to Start Saving
There are two ways to get your U-Save Card:
† Patient out-of-pocket costs may vary. Terms and Conditions apply. This offer is only valid for commercially insured patients. Offer not valid for patients enrolled in Medicare, Medicaid, or other federal or state healthcare programs. Please see full Program Terms, Conditions, and Eligibility Criteria.
‡ Message and data rates apply. Reply HELP for help; reply STOP to cancel. Message frequency depends on user. Consent not required to purchase goods/services.
Talk to a Healthcare Provider Online
Use telemedicine to connect to a doctor, here's how:
Answer a few simple questions.

Connect directly to a licensed healthcare provider or schedule an appointment at your convenience. A fee is charged by UpScript.

If a prescription is written, you can pick it up at a local pharmacy you choose.
Locate a healthcare provider near you
Find a doctor in your area, here's how:
Use the directory to find a healthcare provider in your area who may be able to help.

Make an appointment with the healthcare provider that best suits your needs.

Fill out and bring this conversation starter to discuss what's working or not working with your current treatment plan.
1,000,000+ prescriptions have already been written for UBRELVY||
I keep UBRELVY right by me. It's convenient because it comes in little packets.

— Kendall Real UBRELVY Patient
Hear More Stories
||As of 07/21
Browsing with your symptoms in mind
Turn on to enjoy a more migraine-friendly experience.